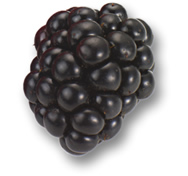 Blackberry Breeding
Heightened public awareness of blackberries as an exceptional source of antioxidants has fueled global markets for superior blackberry varieties.
Desiring to add blackberry varieties to it's repertoire of fine genetics, Plant Sciences, Inc. began a formal breeding partnership with Mr. Hal Johnson, a renowned and experienced berry breeder, in 2005.
The goal of this program is to develop thornless, primocane varieties that give our client base advantages in the global marketplace. Selections are made based on breeding goals of exceptional appearance, flavor, post-harvest fruit quality, tendency for primocane production, high yields and thornlessness.
Commercial field trials are currently being conducted in Watsonville and Oxnard, California, in greenhouses and tunnel production in The Netherlands and on other sites around the globe. The program also includes ongoing research on crop culture techniques of both trailing and erect types, seed processing and germination, and propagation.
As new superior blackberry varieties become available from this program, they will be introduced to our exclusive club members worldwide.